Bright Heat Treatment Using Hydrogen Gas
Generally, heat treatment exposes the target work to temperatures higher than the transformation point of the metal, causing the work's surface to combine with the moisture and oxygen in the air, resulting in oxidation. Heating and cooling the work in a protective atmosphere enables performing the heat treatment while maintaining the metal surface texture. For stainless steel, a more advanced technique treats the work in a reducing atmosphere of hydrogen, hydrogen and nitrogen, or ammonia cracking atmosphere gas to reduce any oxides on the surface, creating a bright and glittery silver white treatment.
The graph on the left shows the equilibrium temperature and dew point of metal oxides in a hydrogen atmosphere. The dew point is the temperature at which moisture in the air condenses, which can be converted to the moisture content in the air. To produce the bright treatment, controlling the dew points below the red line in the graph that indicates the oxidation and reducing the chromium that characterizes stainless steel is essential.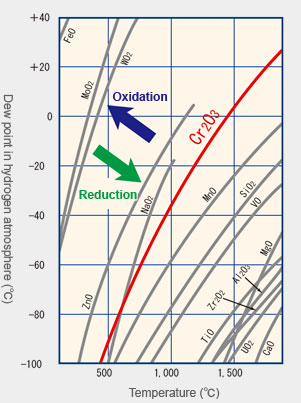 The graph on the left shows the relationship between the carbon content and sensitization of austenitic stainless steel SUS 304. A high cooling speed is required to prevent chromium carbides from precipitating on the grain boundary.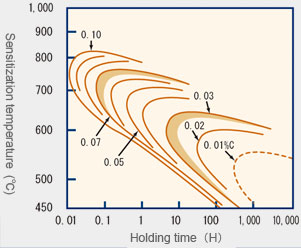 Target Works (Typical Examples)
Annealing for reducing stainless steel hardness
Examples: Flexible pipes, pipes for automobile components, watch parts, bellows, pressed parts

Solution heat treatment for removing residual stresses and work hardening to improve workability and corrosion resistance
Examples: Stainless steel pipes, tableware, stainless steel watchbands, pressed parts
Quenching for increasing stainless steel hardness
Examples: Kitchen knives, scissors, disc brakes, tools, cutting tools, micro-shafts for small motors
Brazing for joining base materials by melting a brazing material that has a lower melting point than the base materials and diffusing it through capillarity action
Examples: Heat exchangers, automobile parts, hydraulic equipment, gas appliances, building parts, farm equipment parts, stainless steel filters
Chemical Composition, Properties and Applications of Stainless Steel Materials
(Main materials of austenitic stainless steel) JIS

(Main materials of martensitic stainless steel) JIS

(Main materials of ferritic stainless steel) JIS

Advantages of Continuous Bright Heat Treatment
Although vacuum and batch furnaces are sometimes used for bright heat treatment, productivity is low in vacuum furnaces, and sufficient brightness cannot be produced in batch furnaces due to low substitution performance.
Bright heat treatment in vacuum furnaces causes metal molecules in the work to evaporate and deposit, which may lead to problems such as surface texture deterioration and failure to form surface oxide films. In contrast, continuous furnaces provide high productivity and also enable easy substitution for better brightness.